TRAINING AND PLACEMENT CELL
St. Francis de Sales College is providing ample opportunities to its students in attaining their career goal. Several prestigious organizations and companies are regularly absorbing students from the campus. Highly reputed companies like Tata Consultancy Services, Wipro Technologies,
Infosys, Concentrix etc regularly visit the college for recruiting young talents. Many students get placement every year from the campus. Apart from providing placements to students, the Career Guidance and Placement Cell (UDAAN), is also playing a crucial role in the overall personality development of students through several life skills and soft skills workshops, seminars and lectures. "Tech persona" is the key activity of the cell which imparts enhancement of personality and communication skills of students.
Aims & Objectives:
To provide career guidance to students.
To bring about coordination with the outside agencies or companies for proper placement.
To provide all possible assistance to Graduates and Post-graduate students in their efforts to find employment. To provide opportunities to students in line with their competencies and to find the best as per their requirements.
The inculcation of guidance about market patterns and employability can help the institution in building a base for its students. This exercise will result in their socioeconomic integration. Training & Placement Cell helps the students with appropriate guidance to establish linkages with the world of work and locate career opportunities.
With this in view, several activities are held throughout the year. This prepares the students in a general manner to face the competition in the sphere of career and also provides them with specific and positive inputs to face the interactive situations.
The Cell also coordinates several on-Campus and some off- Campus placement drives.
COMMITTEE MEMBERS:
Dr. Dileep Sadhankar (Coordinator 9422555665 Mail:dileep.sadhankar@gmail.com)
Dr. Tinu Joseph (Coordinator)
Dr. S. Janardhan
Mr. Rojo John
Mr. Amar Pimpalkar
Ms. Surabhi Walde
Mr. Bosco Andrews
ACTIVITIES:
Tech-Persona (Soft Skill Boot Camp)
This is a Seven days training module organized for the students, with special focus upon the final year graduate students, considering their eagerness and corresponding need for preparation for employment. The students are trained right from resume writing to personal interview. This includes Communication skills, grooming and appearance, Interview techniques, Resume content and writing, presentation skills, etc.
Guest Lectures/Workshops and Simulated Tests
Guest lectures and workshops on different aspects of employability, as well as practice tests are given to the students periodically in order to equip them with facing the Placements at the end of the session.
Open SIMCAT, Employability Quotient Test (EQT), Mock Written Test for Civil Services, Psychometric Tests, etc. are held during the academic session. In addition, Guest lectures on topics such as employment in Civil Services (UPSC & MPSC), opportunities in banking sector, BEC (Business English Communication), Opportunities abroad, etc are also organized.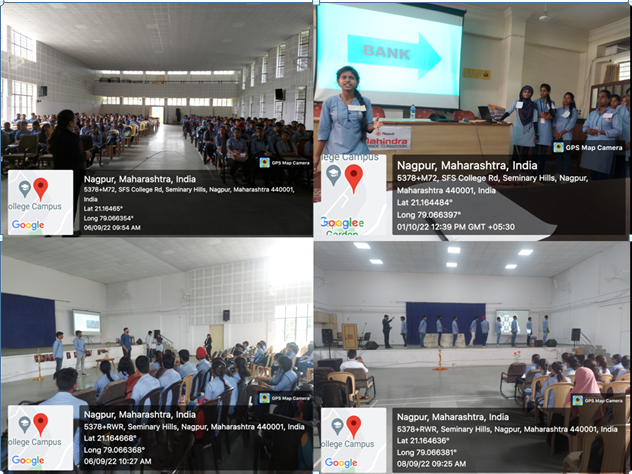 Students Placed (Session 2021-2022)
| | | |
| --- | --- | --- |
| Sr. No. | Name of the student | Organization Placed |
| 1 | Mr. Ankit Ankushe | Newgen DigitalWorks Private Limited , Chennai, Tamil Nadu |
| 2 | Ms. Shweta Yadav | HireRight Background Screening India LLP, Bengaluru |
| 3 | Mr. Shikhar Bamrotwar | CARWALE (cartrade.com) |
| 4 | Ms. Sakshi Sharma | DXC Technology |
| 5 | Ms. Shivani Tandulwar | Capegemini Technology Services India Limited |
| 6 | Mr. Amitesh Anirudhan | Capegemini Technology Services India Limited |
| 7 | Mr. Virendra Singh | Capegemini Technology Services India Limited |
| 8 | Mr. Pratesh Hanvat | Cognizant |
| 9 | Ms. Shreya Umale | Cognizant |
| 10 | Ms. Sharon Das | Atos Syntel Private Limited |
| 11 | Ms. Zinat Aalam | Infosys Limted |
| 12 | Mr. Deepam Sathe | Infosys Limited |
| 13 | Ms. Shweta Yadav | Hexaware Technologies Limited |
| 14 | Mr. kunal Gupta | Hexaware Technologies Limited |
| 15 | Mr. Denis Singh | Hexaware Technologies Limited |
| 16 | Mr. Haririshnan | Hexaware Technologies Limited |
| 17 | Ms. Krutika Mishra | Hexaware Technologies Limited |
| 18 | Mr. Mirza Moin Baig | Hexaware Technologies Limited |
| 19 | Ms. Chetna Thakur | Tata Consultancy Limited |
| 20 | Ms. Krutika Deotale | Tata Consultancy Limited |
| 21 | Ms. Pooja Pandey | Tata Consultancy Limited |
| 22 | Ms. Kanika Sood | Tata Consultancy Limited |
| 23 | Ms. Shivani Tandulwar | Tata Consultancy Limited |
| 24 | Mr. Mayank Kshirsagar | Tata Consultancy Limited |
| 25 | Ms. Zinat Aalam | Wipro Limited |
| 26 | Mr. Amitesh Anirudhan | Wipro Limited |
| 27 | Ms. Sakshi Sharma | Wipro Limited |
| 28 | Mr. Shikhar Bamrotwar | Wipro Limited |
| 29 | Mr. Yash Kadu | Wipro Limited |
| 30 | Ms. Vaishnavi Vyas | Wipro Limited |
| 31 | Mr. Pratesh Hanvat | Wipro Limited |
| 32 | Ms. Shreya Umale | Wipro Limited |
| 33 | Ms. Ridhima Rao | Wipro Limited |
| 34 | Ms. Shraddha Vishvekar | Wipro Limited |
Students Placed (Session 2020-2021)
| | | |
| --- | --- | --- |
| Sr. No. | Name of the student | Organization Placed |
| 1 | Ms. Bhavani Manasi | Byju's |
| 2 | Mr. Touseef Ahmed | Byju's |
| 3 | Mr. ketan warthi | Cognizant Technology Solutions India Pvt. Ltd. |
| 4 | Ms. Mrunal Kannamwar | Cognizant Technology Solutions India Pvt. Ltd. |
| 5 | Mr. Rahul Ukil | DELOITTE |
| 6 | Mr. Amandeep Roy | Hexaware Technologies Limited |
| 7 | Mr. Krunal Kolhe | Hexaware Technologies Limited |
| 8 | Ms. Isha Tallewar | Infosys Limited |
| 9 | Mr. Uddyesh Patel | Mindtree |
| 10 | Mr. Rahul Ukil | Tata Consultancy Limited (IT) |
| 11 | Ms. Ashima Sheikh | Tata Consultancy Limited (IT) |
| 12 | Mr. Ghoshkumar Dehariya | Tata Consultancy Limited (IT) |
| 13 | Ms. Isha Tallewar | Tata Consultancy Limited (IT) |
| 14 | Mr. Aditya Shrikondwar | Tata Consultancy Limited (IT) |
| 15 | Mr Jaswinder Singh Dhillon | Tata Consultancy Limited (IT) |
| 16 | Mr. Uddyesh Patel | Tata Consultancy Limited (IT) |
| 17 | Mr. Ritik Pawar | Tata Consultancy Limited (IT) |
| 18 | Mr. Abhishek Gour | Tata Consultancy Limited (IT) |
| 19 | Mr. Vishal Hiranwar | Tata Consultancy Limited (IT) |
| 20 | Mr. Sheikh Affan | Tata Consultancy Limited (BPS) |
| 21 | Mr. Abhay Gadpayle | Tata Consultancy Limited (BPS) |
| 22 | Mr. Arjunsingh Thakur | Tata Consultancy Limited (BPS) |
| 23 | Mr. Sumit Singh | Tata Consultancy Limited (BPS) |
| 24 | Mr. Touseef Ahmed | Tech Mahindra Limited |
| 25 | Ms. Ashima Sheikh | Wipro Limited |
| 26 | Mr. Aditya Shrikondwar | Wipro Limited |
| 27 | Ms. Isha Tallewar | Wipro Limited |
| 28 | Mr. Abhay Gadpayle | Wipro Limited |
| 29 | Ms. Indira Nair | Wipro Limited |
| 30 | Ms. Shivani Tiwari | Wipro Limited |
| 31 | Ms. Sheema Shaikh | Wipro Limited |
| 32 | Ms. Mrunal Kannamwar | Wipro Limited |
| 33 | Ms. Neha Limje | Vikgol |
| 34 | Mr.Saurabh Adde | SHRIRAM Transport Finance company |
| 35 | Ms. Shruti Dhone | Ramesons Hotel, Fetri, Katol Road |
| 36 | Ms. Yasmeen Sheikh | SEA STONE TRAVELS(P) Limited |
Students Placed (Session 2019-2020)
| | | |
| --- | --- | --- |
| Sr. No. | Name of Student | Organization Placed |
| 1 | Ms. Akanksha Oza | Concentrix Daksh Services India Pvt Ltd |
| 2 | Ms. Anmol Singh | Concentrix Daksh Services India Pvt Ltd |
| 3 | Mr. Avinash Khadka | Concentrix Daksh Services India Pvt Ltd |
| 4 | Ms. Ayushi Gadekar | Concentrix Daksh Services India Pvt Ltd |
| 5 | Ms. Fouziya Fatima | Concentrix Daksh Services India Pvt Ltd |
| 6 | Ms. Megha Damahe | Concentrix Daksh Services India Pvt Ltd |
| 7 | Ms. Meghana Adhaoo | Concentrix Daksh Services India Pvt Ltd |
| 8 | Ms. Priyanka Sawarkar | Concentrix Daksh Services India Pvt Ltd |
| 9 | Ms. Purva Tijare | Concentrix Daksh Services India Pvt Ltd |
| 10 | Ms. Ramsha Ali | Concentrix Daksh Services India Pvt Ltd |
| 11 | Mr. Robinson Raymond | Concentrix Daksh Services India Pvt Ltd |
| 12 | Ms. Teresa Taragam | Concentrix Daksh Services India Pvt Ltd |
| 13 | Ms. Shama Parveen | Concentrix Daksh Services India Pvt Ltd |
| 14 | Mr. Marshal Peter | Concentrix Daksh Services India Pvt Ltd |
| 15 | Ms. Astha Mahure | Concentrix Daksh Services India Pvt Ltd |
| 16 | Mr. Mushahid Khan | Concentrix Daksh Services India Pvt Ltd |
| 17 | Ms. Nidhi Reddy | Concentrix Daksh Services India Pvt Ltd |
| 18 | Ms. Mansi Makde | Concentrix Daksh Services India Pvt Ltd |
| 19 | Ms. Divya Thakur | Concentrix Daksh Services India Pvt Ltd |
| 20 | Mr. Vikram Ukebondre | Concentrix Daksh Services India Pvt Ltd |
| 21 | Ms. Bhagyashri. Gaikwad | Concentrix Daksh Services India Pvt Ltd |
| 22 | Mr. Akash Sakhare | Concentrix Daksh Services India Pvt Ltd |
| 23 | Ms. Ruchi Kanojiya | Concentrix Daksh Services India Pvt Ltd |
| 24 | Ms. Rohini Turkar | Concentrix Daksh Services India Pvt Ltd |
| 25 | Ms. Ashlesha Jajirwar | Concentrix Daksh Services India Pvt Ltd |
| 26 | Ms. Hiba Khan | Concentrix Daksh Services India Pvt Ltd |
| 27 | Ms. Fouziya Khan | Concentrix Daksh Services India Pvt Ltd |
| 28 | Mr. Mukesh Nagpure | Concentrix Daksh Services India Pvt Ltd |
| 29 | Ms. Huzeifah Aman | Infosys Limited |
| 30 | Ms. Agnes Alappat | Infosys |
| 31 | Mr. Mushahid Khan | Mak Associates |
| 32 | Ms. Shikha Sharma | TCS |
| 33 | Ms. Anmol Singh | TCS |
| 34 | Mr. Avinash Khadka | TCS |
| 35 | Ms. Ayushi Gadekar | TCS |
| 36 | Ms. Purva Tijare | TCS |
| 37 | Mr. Sanket Tembhurne | TCS |
| 38 | Mr. Anand Pawanipar | Chola MS General Insurance |
| 39 | Ms. Anmol Singh | Chola MS General Insurance |
| 40 | Ms. Akash Sakhare | Chola MS General Insurance |
| 41 | Ms. Nisha Dubey | Wipro |
| 42 | Ms. Bhavana Raju Shahare | TCS (Senior Process Associate |
| 43 | Ms. Kajal Madankar | Spice Healthcare Ltd |
| 44 | Ms. Neha H. Nagrale | Spice Healthcare Ltd |
| 45 | Ms. Pallavi Bodile | Spice Healthcare Ltd |
| 46 | Ms. Supriya Shelke | Spice Healthcare Ltd |
| 47 | Ms. Payal P. thaokar | IDD Research Solutions |
| 48 | Ms. Nikita Keswani | Star Academy for Airlines training, Nagpur |
| 49 | Ms. Sandhya Tikkas | Medishine Hospital |
| 50 | Ms. Nidhi Reddy | Cognizant Technology Solution Pvt Ltd |
| 51 | Ms. Teresa Taragan | Speel Finance Company Private Limited |
STUDENTS PLACED (Session 2018-2019)
| | | |
| --- | --- | --- |
| Sr. No. | Name of Student | Organization Placed |
| 1 | Ms. Gauri Shanware | Capegemini Technology Services India Limited |
| 2 | Ms. Hitesh Hanvat | Capegemini Technology Services India Limited |
| 3 | Mr. Aditya Fulzele | Concentrix Daksh Services India Pvt Ltd |
| 4 | Mr. Shantanu Wankhede | Concentrix Daksh Services India Pvt Ltd |
| 5 | Ms. Sonia Jadhav | Concentrix Daksh Services India Pvt Ltd |
| 6 | Mr. Daniel V. Raj | Concentrix Daksh Services India Pvt Ltd |
| 7 | Ms. Ifrah Naaz | Concentrix Daksh Services India Pvt Ltd |
| 8 | Ms. Shreya Nagpurkar | Concentrix Daksh Services India Pvt Ltd |
| 9 | Ms. Jemimah Raj | Concentrix Daksh Services India Pvt Ltd |
| 10 | Ms. Kalyani Paliwal | Concentrix Daksh Services India Pvt Ltd |
| 11 | Ms. Ranpreet Gujral | Concentrix Daksh Services India Pvt Ltd |
| 12 | Ms. Farheen Khan | Concentrix Daksh Services India Pvt Ltd |
| 13 | Ms. Shriya Waikar | Concentrix Daksh Services India Pvt Ltd |
| 14 | Ms. Sakshi Parsatkar | Concentrix Daksh Services India Pvt Ltd |
| 15 | Ms. Shubhangi Yadav | Concentrix Daksh Services India Pvt Ltd |
| 16 | Ms. Naima Baig | Concentrix Daksh Services India Pvt Ltd |
| 17 | Ms. Garima Singh | Concentrix Daksh Services India Pvt Ltd |
| 18 | Ms. Asfa Sarmadee | Concentrix Daksh Services India Pvt Ltd |
| 19 | Ms. Swati Mamghai | Concentrix Daksh Services India Pvt Ltd |
| 20 | Ms. Anushree Kamble | Concentrix Daksh Services India Pvt Ltd |
| 21 | Mr. Naved Sheikh | Concentrix Daksh Services India Pvt Ltd |
| 22 | Ms. Parminder Dhillon | Concentrix Daksh Services India Pvt Ltd |
| 23 | Ms. Bhagyashree Naidu | Concentrix Daksh Services India Pvt Ltd |
| 24 | Ms. Madhavi Raut | Concentrix Daksh Services India Pvt Ltd |
| 25 | Ms. Simran Sahu | Concentrix Daksh Services India Pvt Ltd |
| 26 | Ms. Ankita Fulzele | Concentrix Daksh Services India Pvt Ltd |
| 27 | Ms. Mansi Bengirwar | Concentrix Daksh Services India Pvt Ltd |
| 28 | Ms. Sahaya Raj | Concentrix Daksh Services India Pvt Ltd |
| 29 | Ms. Gayatri Burewar | Concentrix Daksh Services India Pvt Ltd |
| 30 | Mr. Anish Joseph | Concentrix Daksh Services India Pvt Ltd |
| 31 | Ms. Sulekha Singh | Concentrix Daksh Services India Pvt Ltd |
| 32 | Ms. Hadiya Tanveer | Concentrix Daksh Services India Pvt Ltd |
| 33 | Ms. Prachi Kale | Concentrix Daksh Services India Pvt Ltd |
| 34 | Mr. Vineeth Joy | Concentrix Daksh Services India Pvt Ltd |
| 35 | Mr. Kalpesh Jadhao | Infosys Limited |
| 36 | Ms. Aishwarya Raghuwanshi | Infosys Limited |
| 37 | Ms. Gauri Shanware | Infosys Limited |
| 38 | Ms. Dhanashree Choudhry | Infosys Limited |
| 39 | Ms. Arshi Anjum | Infosys Limited |
| 40 | Ms. Rasika Namjoshi | Infosys Limited |
| 41 | Mr. Hitesh Hanvat | Wipro Limited |
| 42 | Mr. Kalpesh Jadhao | Wipro Limited |
| 43 | Ms. Gauri Shanware | Wipro Limited |
| 44 | Mr. Faisal Khan | Wipro Limited |
| 45 | Ms. Dhanashree Choudhry | Wipro Limited |
| 46 | Mr. Eeshan Shukla | Wipro Limited |
| 47 | Ms. Dhanashree Choudhry | Wipro Limited |
| 48 | Ms. Dhanashree Choudhry | Tata Consultancy Services |
| 49 | Mr. Kalpesh Jadhao | Tata Consultancy Services |
| 50 | Ms. Rasika Namjoshi | Tata Consultancy Services |
| 51 | Mr. Hitesh Hanvat | Tata Consultancy Services |
| 52 | Ms. Aishwarya Raghuwanshi | Tata Consultancy Services |
| 53 | Mr. Arvind Rahangdale | Tata Consultancy Services |
| 54 | Ms. Rolly Walde | Tata Consultancy Services |
| 55 | Mr. Deepak Mishra | Tata Consultancy Services |
| 56 | Ms. Gauri Shanware | Tata Consultancy Services |
| 57 | Mr. Karan | Tata Consultancy Services |
| 58 | Ms. Aishwarya Raghuwanshi | Atos Syntel |
Students Placed (2017-18)
| | | |
| --- | --- | --- |
| Sr. No. | Name of Student | Organization Placed |
| 1 | Mr. Gaurav Dhaberao | ICICI Prudential |
| 2 | Ms. Surabhi Meshram | ICICI Prudential |
| 3 | Ms.Dhyaneshwari Londhe | ICICI Prudential |
| 4 | Ms.Rashmi | ICICI Prudential |
| 5 | Ms.Ateeba Sheikh | Tata Consultancy Services |
| 6 | Ms. Shivani Raut | Tata Consultancy Services |
| 7 | Ms.Shirley Anthony | Tata Consultancy Services |
| 8 | Ms.Nikita Pusadkar | Tata Consultancy Services |
| 9 | Mr. Gaurav Dhaberao | Tata Consultancy Services |
| 10 | Mr.Akash Pandey | Tata Consultancy Services |
| 11 | Mr.Leon Francis | Tata Consultancy Services |
| 12 | Mr.Surabhi Meshram | Tata Consultancy Services |
| 13 | Ms.Rashmi | Tata Consultancy Services |
| 14 | Ms.Bhagyashree Gajbhiye | Tata Consultancy Services |
| 15 | Ms.Muztaba Rahber | Tata Consultancy Services |
| 16 | Mr.Gaurav Dhaberao | Mphasis limited |
| 17 | Ms.Surabhi Meshram | Mphasis limited |
| 18 | Ms.Dhyaneshwari Londhe | Mphasis limited |
| 19 | Ms.Shirley Anthony | Infosys Limited |
| 20 | Ms.Rashmi | Infosys Limited |
| 21 | Mr.Rahul Sahebrao Nepte | Infosys Limited |
| 22 | Ms.Soumya Paul | Infosys Limited |
| 23 | Ms.Heena Jawhrani | Infosys Limited |
| 24 | Mr. Manu Tolade | Amazon India |
Students Placed (2016-17)
| | | |
| --- | --- | --- |
| Sr. No. | Name of Student | Organization Placed |
| 1 | Ms. Sreevidya Nair | Concentrix Daksh Services India Pvt Ltd |
| 2 | Ms. Amreeen Fatema | Concentrix Daksh Services India Pvt Ltd |
| 3 | Ms. Sheeba Sheikh | Concentrix Daksh Services India Pvt Ltd |
| 4 | Mr. Mohd. Vasid Ansari | Concentrix Daksh Services India Pvt Ltd |
| 5 | Ms. Oshin francis | Concentrix Daksh Services India Pvt Ltd |
| 6 | Mr. Priyatam Sahu | Concentrix Daksh Services India Pvt Ltd |
| 7 | Ms. Monika Dukhi | Concentrix Daksh Services India Pvt Ltd |
| 8 | Ms. Apoorva Ukey | Concentrix Daksh Services India Pvt Ltd |
| 9 | Ms. Pooja Kamdi | Concentrix Daksh Services India Pvt Ltd |
| 10 | Ms. arunima Mukherjee | Concentrix Daksh Services India Pvt Ltd |
| 11 | Ms. Lakshana Mandve | Concentrix Daksh Services India Pvt Ltd |
| 12 | Mr. Prince Joseph | Concentrix Daksh Services India Pvt Ltd |
| 13 | Ms. Bhagyashrere Gajbiye | Concentrix Daksh Services India Pvt Ltd |
| 14 | Ms. Mehvash Qureshi | Concentrix Daksh Services India Pvt Ltd |
| 15 | Ms. Priya Upadhyay | Concentrix Daksh Services India Pvt Ltd |
| 16 | Mr. Pranshu yadav | Concentrix Daksh Services India Pvt Ltd |
| 17 | Mr. Shailesh Raut | Concentrix Daksh Services India Pvt Ltd |
| 18 | Mr. Ashish Meshram | Concentrix Daksh Services India Pvt Ltd |
| 19 | Ms. Kalyani Mohod | Concentrix Daksh Services India Pvt Ltd |
| 20 | Ms. Rubina Bhati | Concentrix Daksh Services India Pvt Ltd |
| 21 | Ms. Shilpi Shakya | Concentrix Daksh Services India Pvt Ltd |
| 22 | Ms. Simran Mishra | Concentrix Daksh Services India Pvt Ltd |
| 23 | Mr. Avinash Jadhao | Concentrix Daksh Services India Pvt Ltd |