Activities

CHEMICAL SOCIETY
In order to cater to the intellectual need of the staff and students and to keep themselves abreast of latest developments, applications and current trends in chemistry the departmenthas constituted an association named as S.F.S. College Chemical Society. The Chemical Society organises popular talks, seminars, guest lectures, quiz competitions, science exhibition, study tours etc.
Report: 2015-2016
The Chemical society was inaugurated on 16/10/15 by Dr. Job kozhamthadam, Alumni of university of Maryland & university of Notre Dame, USA. He also gave a lecture on the topic 'Cosmology and human existence". Around 70 students were participated. PowerPoint presentation competition on the topic "Chemistry in everyday life" and Essay competition on the topic "Contribution of Dr.C.V. Raman in the development of science" were also conducted on the same day.
Report: 2016-17
The Chemical society was inaugurated on 19/8/16 by Shri G S Saini, Director f National Civil Defence College, Nagpur. A lecture was also delivered by him on the topic "Safety measures in life & Laboratory". Around 65 students were participated. An Industrial visit to Indorama, was conducted on 28/1/17. ". Around 40 students were participated.
Report: 2017-18
National science day was celebrated by department of chemistry, SFS College to commemorate the discovery of Raman effect by Sir C.V Raman. Various events like essay competition, poster competition and powerpoint presentation competition were also held on 28th February 2018.Powerpoint presentation competition was held with the title 'Recent developments in Science & Technology in India'. Mr Ravikant of B.Sc II PCM were given a first prize and Mr Ashutosh Mishra of B.Sc I CBZ were given a second prize.Essay competition was also held on the topic 'Contribution of Sir C. V. Raman in the development of Science & Technology'. Mr Mushahid Khan of B.Sc I and Mr Ashuosh Mishra got first and second prizes respectively among several entries.Poster competition was also held for students with following topics -Laboratory safety, Raman Effect, Proper disposal of chemical waste, Chemistry of fruits, Chemical hazard symbols and Chemistry of spices. Ms RushaliSahare of B.Sc III, Ms Deeba Rahman of BSc III and Ms Dillu Singh were given first, second and third prizes respectively. All other participants were awarded participation certificates.
Report: 2018-19
The Chemical society was inaugurated on 29/09/2018 by Dr. Jayant Ekhe, Professor, VNIT. All teaching staffs and students were present. On his keynote address, Dr.Ekhe spoke about various chromatographic techniques.
An online quiz competition was held on 10th September, 2018 for B.Sc. First Semester students through Whatapp. Ms. Janet Devraj, Mr. Gaurav and Ms. Devashree got first, second and third prizes respectively.
An industrial visit to Venkateshwara Power Project ltd., Sugar Factory, Mouda was conducted for M.Sc. students on 5th January, 2019. Dr.Ambareen Sheikh, Ms. Vaishali Sonkusre, Mr. PrashikWalke and Ms. Priya Choudhary were accompanied them.
Chemistry students performed demonstrations of some interesting reactions in the Science Exhibition on 2nd February, 2019.
A lecture on the topic "Chemical weapons" was delivered for B.Sc. students by Mr. Rojo John on 26/02/2019.
National science day was celebrated on 28th February, 2019. This year the theme was " Science for the people and People for Science". Dr. S. P Sangal, Ex-Professor, LIT, Nagpur and Founder director, C V Raman Institute of Technology, Nagpur was the chief guest. Poster making competition and PowerPoint presentation competition were also held as a part of National science day. Ms. Agnes Alappattu, Mr. Mushahid Khan and Mr. Ashutosh Mishra were given first, second and third prizes respectively in the PowerPoint presentation competition. Mr. Mushahid Khan, Ms. Sauleha Khan and Mr. Ankit Wagh were given first, second and third prizes respectively.
Chemical Society_Report_2019-2020
The Chemical Society for the session 2019-20 was inaugurated on Thursday, 29th August, 2019. Dr K V George, (Senior Principal Scientist, Air Pollution Control Division, NEERI, Nagpur) was the Chief Guest. A lecture was also delivered by him on the topic "Air Quality Monitoring".
Chemical Society conducted one guest lecture on 11th September, 2019. Dr Raghav Saran, Ex-Scientist, BARC and vice-president, The Indian Society of Analytical Chemists (ISAS) spoke on 'glimpses of analytical techniques in trace element analysis'.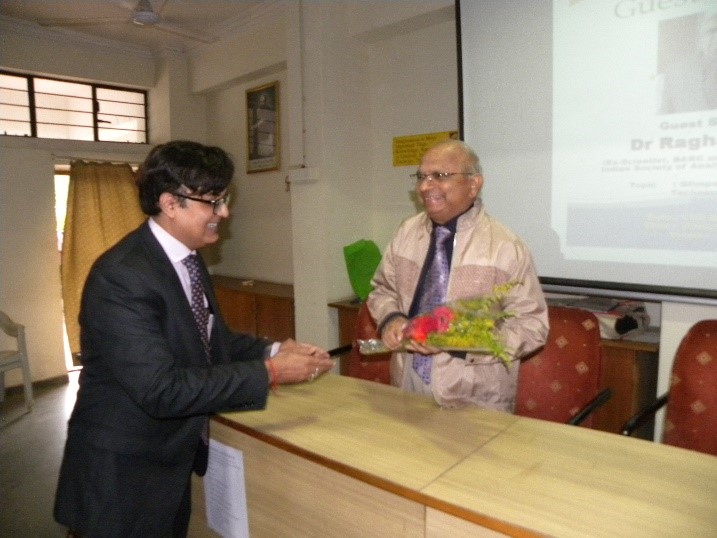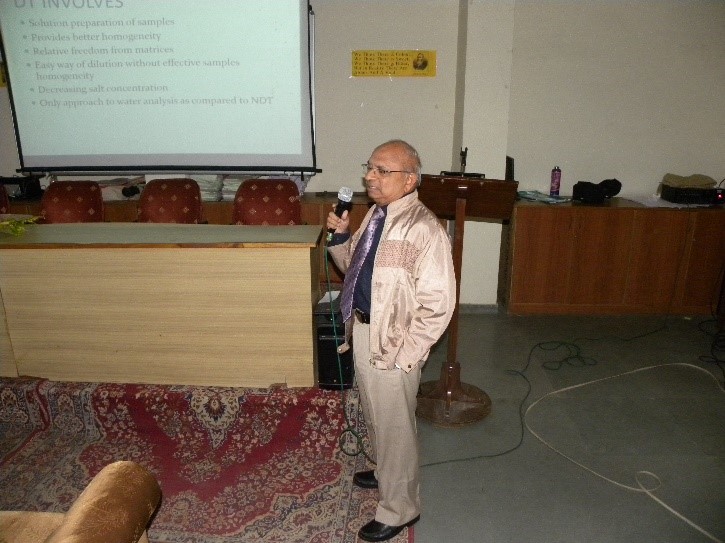 Chemistry students under the banner of chemical society participated in the Science Exhibition held on 27/09/2019. The following students participated.
| | | |
| --- | --- | --- |
| Name of students | Class | Experiments conducted |
| Arti TiwariNayan RamtekeNabira Saher | I BSc PCM | Make Model of graphite and diamond |
| Nida FarooqMrunal PandeTabassum Pathan | I BSc PCM | Make model of NaCl and CsCl |
| Adain PatelSayali RautTejshree Mendhe | I BSc CBZ | Make model of Buckminster fullerene |
| Kashish JambhulkarNalini RamdhamKrutika Mange | I BSc CZBC I BSc CBCBT | Make lemon battery + salt solution and Mg/Zn |
| Sana ShadShafiya Sheikh | II BSc CBZ | Perform chemical cut and elephant toothpaste |
| Gaurav AmaleAyushi Dhote | II BSc CBCBT | Perform chemical chameleon and blue bottle experiment |
| Harshal NimgadeAditya Buddhe | II BSc CZBT | Perform chemical volcano and red cabbage pH indicator |
| Mayank MangeshShubham DorlikarJyotsna Chavan | I BSc CBZ | Electrolysis of water |
| Yash NandurkarDevashree Diwanji | II BSc CBZ | Magic milk |
| Mushahid KhanSauleha KhanBhagyashree Gaikwad | III BSc CBZ | Black fire snake expt. Smoke bomb Potato battery Make ferro fluid |
| Jitika BhattaAshwini Ingle | II BSc CBCBT | make poster of nuclear reactor |
Chemical Society conducted another guest lecture on 27th December, 2019 on the topic "Phosphors for white LEDs – A chemical perspective" by Dr. Atul D. Sontakke, Condensed Matter and Interfaces (CMI), Debye Institute for Nanomaterials Science Utrecht University, the Netherlands.In his lecture, Dr. Atul spoke about design and working of LED's. Synthesis, properties, factors deciding the colour and applications of phoshors.
Following students of MSc attended 107th Indian Science Congress from 3rd to 7th January, 2020 at Dr. Babu Rajendra Prasad, International Convention Centre, Bangalore.
Sheya Ramekar
Shreya Mokati
Sanika Belekar
Monali Kale
Chaitali Raut
Monika Bhoyar
Shivani Naik
Ruchika Lonkar
Chemical Society organised another guest lecture on the topic "Fifty Years of Supramolecular Chemistry" by Dr Mrs Shampa Chakraborty, National Post Doctoral Fellow, NEERI, Nagpur on 12th February, 2020. In her lecture, Dr Mrs Shampa Chakraborty spoke on basic concept of supramolecular chemistry, birth of supramolecular chemistry, supramolecular chemistry today, supramolecular chemistry and its future and some of her published sensors. Prof. M Karmakar, HOD, Chemistry department welcomed the guest with a floral bouquet. Mr. Rojo John, Coordinator of Chemical society coordinated the event. Mr. Sahil introduced the guest to the audience. Ms. Devashree gave vote of thanks. Mr. Mushahid Khan anchored the event. All staffs and students participated in the event.